The team at Downtown Dental Group in Winnipeg knows that your family is important! Our dental services help your children maintain oral health and establish good oral health habits early.
---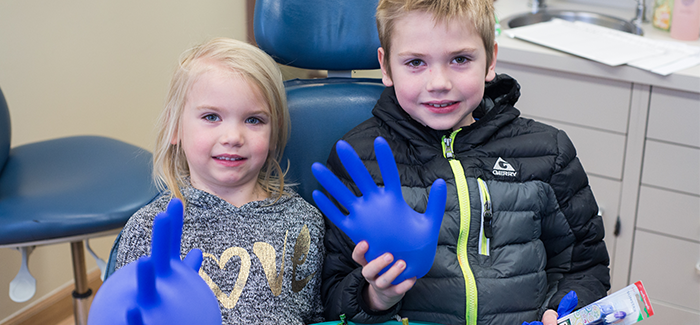 What to Expect
From the very first visit, we want your child to feel comfortable. Our team will walk both you and your child through each process and explain the benefits of good oral health. We strongly believe that prevention and education can help build the basis for a lifetime of healthy oral habits.
How often should my child visit the dentist?
We recommend bringing your child in to see the dentist by their first birthday. We encourage your child to visit us at least twice a year, just like you! Our goal is to help them develop good oral habits, and maintain a healthy smile.
During their visit, we will teach your child:
How to brush their teeth
How to floss their teeth
How often to brush and floss for a healthy smile
At Downtown Dental Group, we treat you like family.
Our team of dentists, dental hygienists, and dental assistants know that family is important to you. We provide a wide range of services to help keep your child's smile on track.
What We Offer
We provide a variety of services for children of all ages. You can count on our dental team to support your family.
Cavities control
Mouth guards
Preventative education
Dental hygiene
Orthodontics
We will work with you and your child to create a suitable plan to help keep their teeth healthy. Our schedules are flexible, and we can allocate time for your whole family to visit us together. Contact us today to book your first appointment!
---